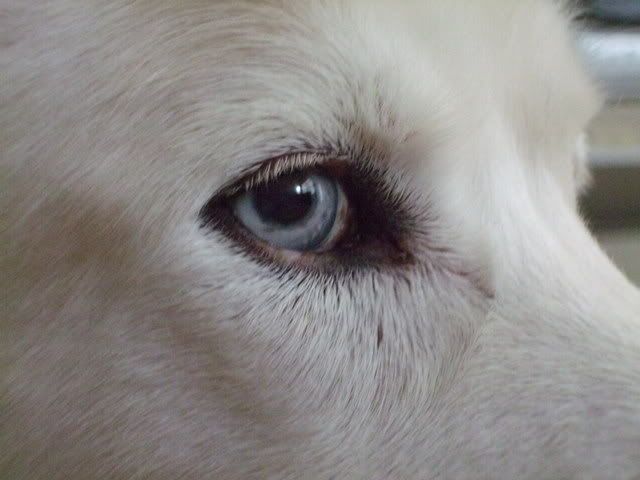 Yeah, I know I haven't been around in a long time. It's Mama's fault. You see, she went and got this job thing because Daddy says she needs to get out more. So she got a job at the local Petsmart. It's kind of nice because she brings me all sorts of things like toys and yummy treats, but she won't let me blog unsupervised. She said there's tons of mean predator type people who'd love to take advantage of me. What so wrong with predators? I'm a predator! I guess I must be thinking of a different type.
You guys remember me talking about Max, the husky puppy that lives by me? Well, we haven't seen him for at least 6 months now. When Mama talked to the human, it was pretty obvious that he didn't know anything about us Huskies. Mama thinks they "got rid of him." Poor Max! We did see the man with some scraggly rat looking dog recently. Ugh!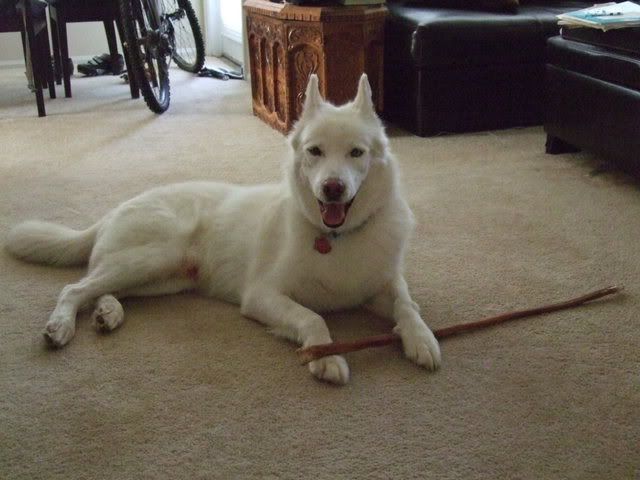 Hey, check this out. Isn't this the biggest bully stick you've ever seen??! That's right, 30 inches of yummy bully! Don't I look downright ecstatic? I gotta admit, it's taking me forever to eat it though. It's been about a month since Mama brought it home and I have probably 3/4 of it left. I'm just not a power chewer. Part of the problem is that I need my teeth worked on. Mama took me to the vet today to make an appointment for my teeth. The vet says I'll have to go nite-nite for them to do it, and then I'll need antibiotics. He was checking me all over, and when he got to my bladder I couldn't help it. It just hurt so bad I yelped! Then he checked a few more times to make sure, and then he told my Mama that he needs to do a "urinalysis." I've never had one of those before, I wonder what it is? I guess I'll find out tomorrow, cuz Mama said something about stealing some of my urine. What's she mean by that? I need all my urine to leave pee-mail on the bushes and trees. She can't just go around stealing it!
At least the vet peoples gave me lots of cookies, so I forgave them for poking and prodding me.
I mentioned before that Mama worked at Petsmart and that I got perks from it. Check this out!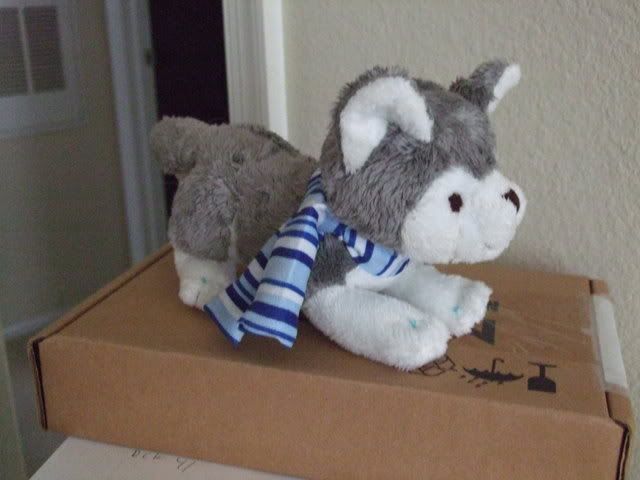 It's me! Well, not really. He's probably my cousin 8x removed or something. But isn't he cute? Mama took me to the store on her day off just to buy him. I guess she was buying him for herself. She was stupid and squeaked it though. All things that squeak are mine, even though I don't really play. If I'm all energetic from coming in from outside in the cold then I'll play if Mama squeaks the stuffy and tosses him. I like to keep my toys hidden behind the dining room table though. They're just safer there.
Here I am attacking my stuffy: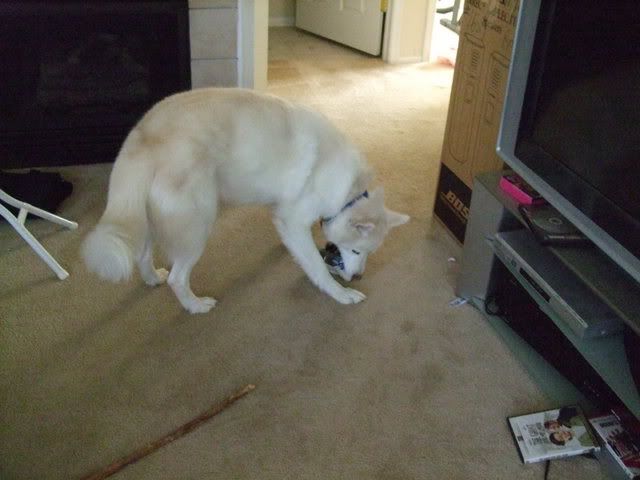 And here I am taking him to his safe spot behind the dining room table: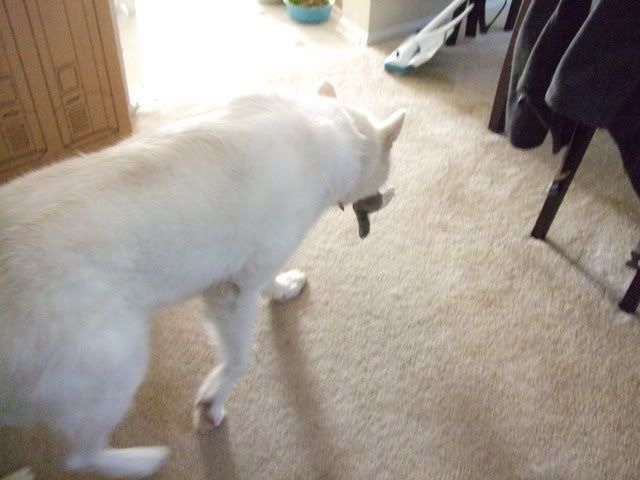 And then here's some pictures that Mama took last week when we were outside. I had just woken up, so I had to get some good stretching in first. Then we were off.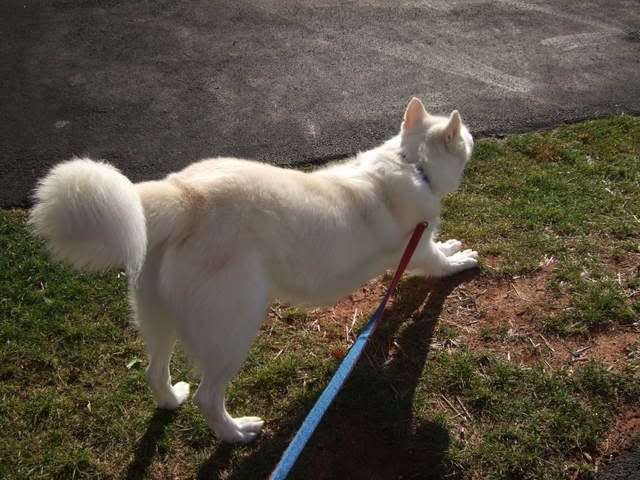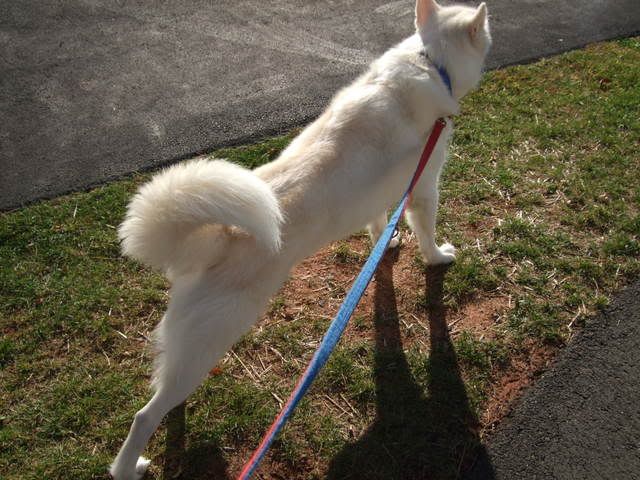 Oh yeah, I forgot to mention this. I got new food! I used to eat Wellness, but Mama went food shopping at the new store that just opened up (
DogGone Natural
) and she got me a grainless kibble. She got me a bag of Orijen, which I really really like, and some Innova Evo 95% beef and 95% duck canned food. It's good good stuff! Yum yum! Mama was really really pleased with the store, as was I. The lady gave me all sorts of yummy homemade cookies, and she even packed a bunch in a doggy bag for me. She told me "Shhh pretty boy, we'll keep this between you and me." Mama says they have a very limited selection, but what they have is really good. Evo, Orijen, Timberwolf Organics, California Natural, Merrick, and Canidae. They also have premade raw. It didn't feel like a store at all! It had a coffee shop vibe according to Mama. I myself have never been to a coffee shop so I'll just have to take her word. Mama hopes that this store is a success because the only other stores that sell the good foods also sell puppies which leaves Mama in a huge moral quandry. Plus this store is the only one that sells Orijen in our area. There's only 3 sto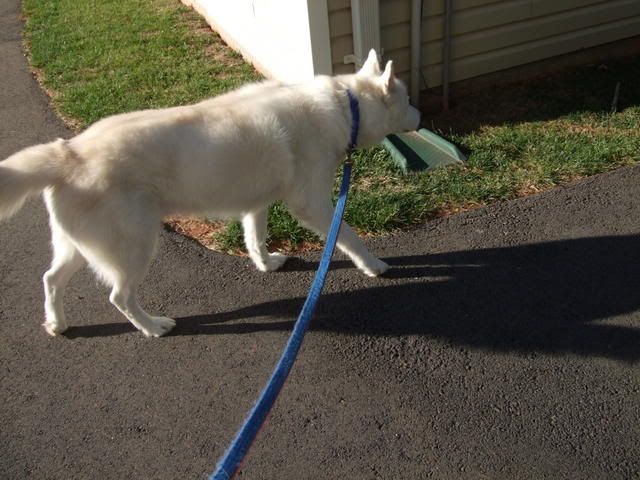 res in Virginny that sell it, so if they closed then we couldn't buy it anymore.
I'll try to post some more tomorrow after I find out what this whole "urinalysis" thing is all about.