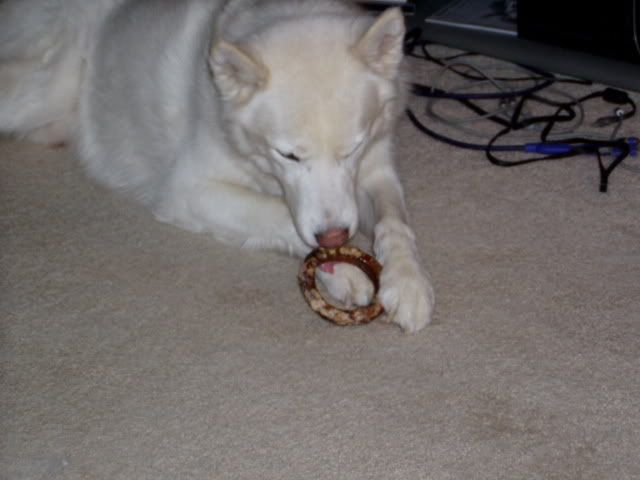 As promised, Mama took me to the dog park yesterday where I got to run and run for two whole hours! Technically I ran out of gas after the first hour, but I got a fresh burst of energy with every new dog who entered.
I got to play with two boxers, a dogue de bordeaux (Mama says she was frickin cool,whatever that means....I thought it was too warm out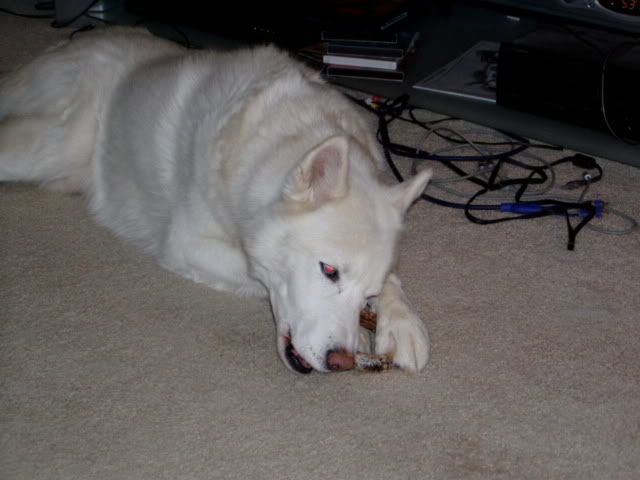 myself), a ginormous doberman who was twice my size, a small shiba inu looking thing, a brittany, a border collie, two greyhound crosses and some other dogs I don't remember. I was the only Husky though, I'm always the only Husky.
I did get into a scuffle with one of the boxers, he thought I wanted his frisbee and he snarled and bit me and his human had to pull him off of me and then he threw the stupid ol frisbee over the fence so the dumb boxer wouldn't attack me again. I don't think all boxers are stupid, just ones that think I want their dumb ol toys and then bite me. I've got a whole stack of toys at home that have never had a drop of my saliva on them, I don't need some chewed up plastic frisbee.
All the snow was melted. Mama had hoped the snow would still be there so I could romp in it, but the other humans said the snow melted fast. It was wet and a little muddy, but I didn't care. I usually HATE getting my feety-feets wet, but I was having so much fun running that I didn't care. My nice white coat turned into a dingy grey, but it's nice and clean again now after a little self grooming.
I'm sorry there's no pictures, but you guys can blame Mama for that. She did take the camera, but she forgot to check the batteries before we left and they were dead! Dead! She never gets pictures of me in the park, she always forgets the camera and the one time she remembered it the stupid batteries were dead. I don't know what I'm going to do with her. O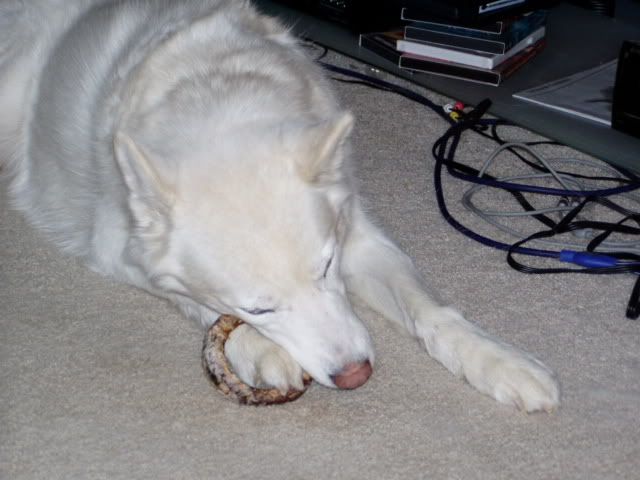 n a good note, after running and romping and jumping and chasing for two whole hours, I'm not sore a bit! Woooooooooooooooooo! I am tired though, Daddy called me a dead dog all night cuz I couldn't be bothered to move. I was too tired to even lift my head up.
To make up for the lack of pictures from the park, I'm posting pictures of me chewing on a super yummy bullystick ring! Mmmmmm bullystick....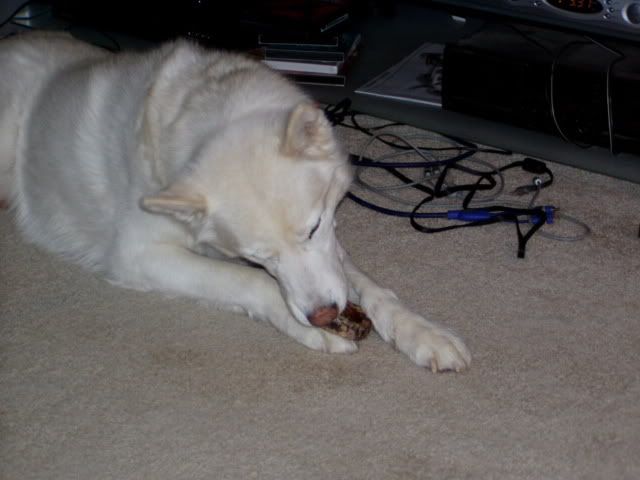 Oh yeah, I updated my link list, please make sure to drop by D'Azul Siberians, Fargo, Franki, Sitka & Tia, and Maverick's blogs if you haven't already. They're super cool!