Oh man oh man, have I had a good weekend or what! I met this dog named Gracie, she's pretty cool for an older gal. She kinda looks like a sausage, but she's so sweet! I made sure to be very nice to her, no jumping around or anything like that, just lots of licks and sniffs. Mama said I was very polite and she was very proud of me, awooo! I see Gracie and her human twice a day, and each time we gets to sniff and lick each other. I stand there and wait for Gracie's human to bring her over; actually it's more like Gracie dragging her human to me cuz she's just soooo excited!
And then there's Cody. Cody's a rough and tumble yellow lab puppy, and he's got the energy that goes along with that. He's alllllll legs and no body, his human said he's just under a year old. Cody's human said it was nice to see another young dog around that Cody can bounce around with. Mama had to spoil it and tell the human that I'm not a puppy, I'm 9, and that I'm not used to seeing so many dogs all the time, having spent most of my life in the country and stuff. She actually had the nerve to INSULT me by saying I get outside and my "brain falls out of my ear" and that we're "working on that." What? Working on what? I think I act just fine! I do the sit thing, and the down thing, and the stay thing perfectly! But mama says that those same rules apply outside as well. Silly mama. Cody was lots and lots of fun to play with, we bounced and jumped and got our leashes all tangled up. See how nice we are? We made sure the humans didn't get lazy by letting them just stand there. No lazy humans!
Cody's daddy told us that he takes Cody to one of the tennis courts to run around in since they're fenced. So Saturday afternoon my mama took me to the tennis courts to run around. I didn't run much, I pretty much just stayed on the far end of the court. The house nearby had 2 weiner dogs and 2 big dogs that were barking at me, so I made sure to stay at the end of the court over by them just so I could keep an eye on them. I got tired quick though, and then I went back to mama and laid down by her feet for a rest. I like the tennis courts, but I wanna go to this "dog park" mama keeps talking about. She says we still can't go there yet cuz I still don't have a Virginny license, just my Michigan one.
Sunday, daddy and mama went to the store (without me!) and came back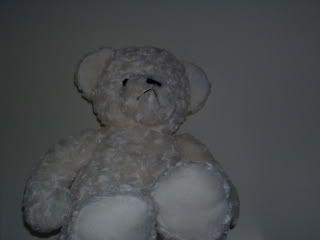 with more bags of stuff. Once again, nothing for Poseidon. I'm starting to get frustrated. Mama even got a big stuffed bear and said it was "the softest thing EVER made!" Of course, daddy had to spoil the whole thing by reminding mama not to leave it within my reach or else I'll think it's mine. Silly humans! Did they forget the part of my personality where I don't play with toys? Especially large stuffed bears! Maybe I'll try to get it now, just to shred it out of spite. What do you guys think? Think he looks shreddable?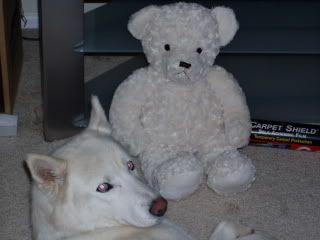 Speaking of things that are annoying me lately......there's this thing. You see this thing? This is the brand new "super cool, pro quality" rowing maching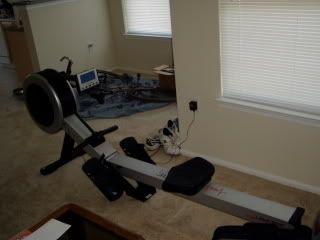 that daddy just got, and that he's oh so proud of. Now, normally I wouldn't care about this thing being in my space. However, for a while it blocked the middle of the living room and I had to hop over it to go from one end of the room to the other. That was bad enough, but now they've decided to put it here, right where I like to sleep. They were only going to put it together in the living room, it wasn't supposed to stay there! It's supposed to go into one of the guest bedrooms, but the boxes of books (that they've still not unpacked) are hogging up all the space. See my daddy's bike? That's also taking up prime real-estate. He hasn't yet decided where to put it, so there it's been since they started moving stuff in. Mama's bike is in one of the spare rooms out of the way, but daddy's bike doesn't have a kickstand and he doesn't wanna lean it against a wall. Mama suggested he put the bikes on the patio, but he looked at her like she was nuts. Something about how he's not gonna leave his big fancy expensive bike out on the patio for someone to steal. Mama suggested a lock, but he says locks are too easy to break or cut or something. So everytime I wanna go out on the patio with mama, I have to walk around that goofy bike.
I met yet another doggy yesterday! She's a plump 50 pound gal named Anya. Anya came from a shelter, so that kinda makes us related or something since I came from a rescue. Anya and her humans (and their cute baby human) just moved in a week ago and Anya's not used to living in an apartment either. She had a great big yard at their old house just like I did. Her human said she's lacking a bit in the manners department too. I bounced around with her for a while until she started humping my head, then I ran around and hid behind mama. Her human was sooooo embarassed, it was hilarious! I tried to hump her too, but my goofy mama said that was impolite and wouldn't let me do it. Even after I was tired of playing and just wanted to flop down next to mama, Anya kept trying to get me to play. She kept jumping on my head, and hitting my face with her paws, and I didn't much care for that, but I took it all gracefully. Mama said she was really proud of how well I behaved since I usually am ready to keep going as long as the other dog is in sight.
Manners. Why are humans so obsessed with manners? Mama says I need to learn that those silly "sit, down, stay, watch me" things still apply outside the house. So this morning on our morning potty walk she worked with me on that. Since I'll do just about anything for a snack, mama cut up one of my favorite snacks into bite-sized pieces (why? I want a whole one!) and of course I plopped my butt down when told to, and watched her when she told me to. Laying down was an effort in frustration, but I did it. I even stayed until she gave me the "okay" word. Mama says it needs more work, especially when there are more distractions like other dogs and stuff, but she said she's going to PetSmart today to get me some new treats just for this purpose. Ones that she doesn't have to cut up. She said daddy spoiled me, and so all my commands were rusty when mama met me. Thanks to her I follow house rules perfectly, and eventually I'll get the outside rules to stick in my head too.
Oops! Gotta go! Mama said she's gonna take me to the tennis courts later, I'm gonna go bug her until we go!