I kept meanin to get on here and update this thing, but I was either sleepin or Mama was busy and wouldn't let me on.

Anyways, it's been a busy year. First, I had a biopsy on a lump in my ear: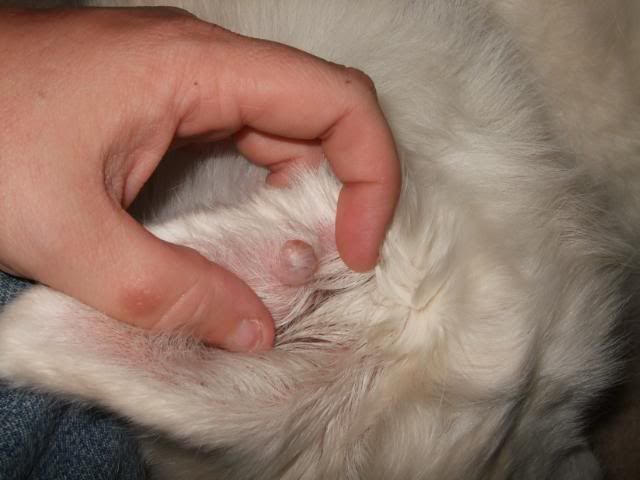 The biopsy came back negative, it's just a harmless tumor of some sort. Mama said we're gonna get it removed when I gets my teeths cleaned.
Then we went to the anniversary party for the store I gets my dog food from. Miss Kim and Mr. CJ are some of my very favorite humans. They always gives me good stuff. Mama got two boring books that day, and I scored some yummy goodies. Here I am with my stash: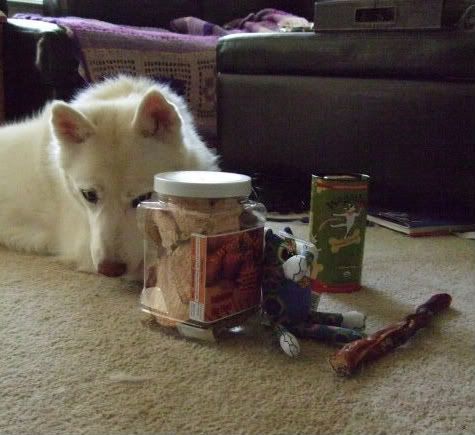 One of my neighbors got a little white Sibe puppy just like me! Her name is Nikita, and she's almost 12 weeks old now. That poor man has no clue what he's gettin into, he doesn't even have a crate! Needless to say she's drivin him nuts trying to housetrain her. He has been warned.
I gots to meet her and we had fun, but Mama wouldn't really let me play with her as much as I wanted, on account on the stitches I had at the time (which will be explained in the next post).
I'm gonna post up another entry, since Mama says that the next one needs to be on it's own.