Mama said I was all grody because I had ground in dog park dirt/grit, and dried blood all over me from when I was attacked. So she decided that I needed a "spa day." Now, I wasn't sure what a spa day was, or if it was a good or bad thing, so I happily jumped in the car when Mama took me out there.
Well, we went to the PetSmart place and I gots to say hi to my favorite cashier, Miss Wilma, and she gave me cookies and said my head looks soooooo much better. I was all happy that the car wasn't taking me to the vet again, I didn't even care when we walked into the grooming salon. I got to say hi to all the groomer peoples too (I'm so adored), and then Mama took me in back and put me in a crate! Can you believe it??! It was a big crate, but it was still a crate! Then Mama left me there! I was appalled!
Shortly after Mama left, Miss Bonnie came and got me out of the crate (whew) and then she brushed me out. I loved that, brushing feels soooo good. Then the horrible part came: she took me over to the tub area and put these drops in my eyes and then started giving me a bath! A bath! Ahhhhhhh! The shampoo part would have felt great if I weren't soaking wet. She also put something called conditioner on me to make me all soft and stuff.
Then Miss Bonnie took me out to the big area with the tables and stuff and used the drier to blow out all of my precious undercoat. Again, the brushing felt great, but I don't like being wet! She cleaned my ears too, and I can't say I care for that a whole lot either. It just feels all ticklish to have stuff in my ears. All the other groomer peoples came over to give me lovins and kisses, and Miss Wilma came in to love on me too. I loves Miss Wilma, and she cried so hard when she saw me with my stitches after I got attacked.
Anyways, they brushed my teeths too and clipped my nails. Then Mama came to get me and they sprayed something that Mama said smelled like pumpkin pie (whatever that is) on me and we went home. Mama said my scar on my head and neck looks lots better now that everything is clean.
Miss Bonnie says that next time I come that she wants to do me again. She said I'm the easiest dog to bathe ever, cuz I just stand there and am a good boy. If I could say human words I'd tell her that I'm only so still cuz I'm absolutely horrified at being wet. Oh the shame!
Here's some pictures Mama took when we got home: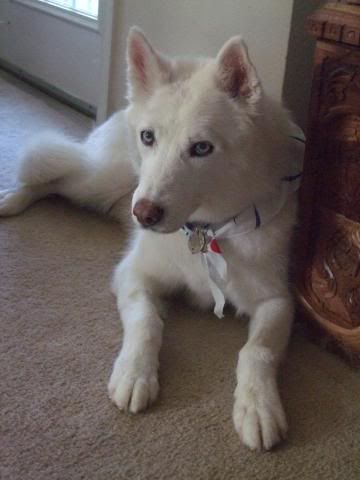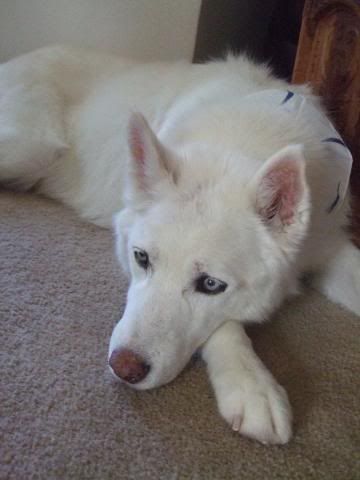 See how much better my head looks? It's still a little tender, but it's lots better!