First of all, I'm A-OK now, but here's what happened:
Mama took me to the dog park almost a month ago (it'll be exactly 4 weeks this coming Tuesday). There was only two other dogs there besides me. I was over by the water spigot thingy mindin my own business, when this giant galumph of a dog named "Happy" attacked me for no reason that me, Mama, or the other lady could figure out. He had me on my back, and I was screamin and screamin tryin to get away. The lady got him offa me, and I stood there just screamin, and Mama took one look at me and said we're goin to the vet right now.
Mama took these pictures while we was waitin at the vet's office: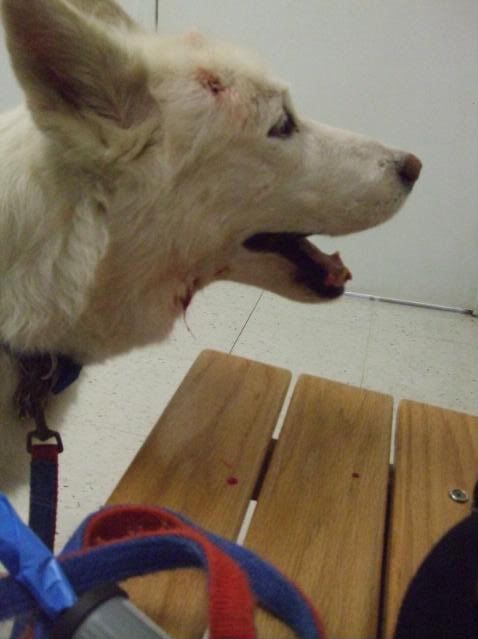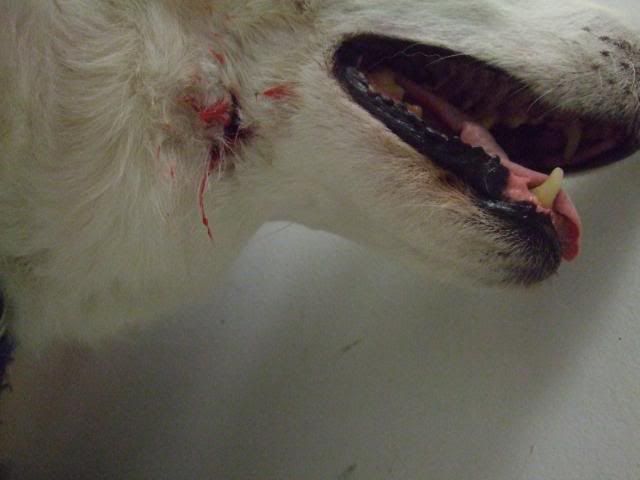 The vet lady looked at the wound on the top of my head and wanted to take Xrays cuz she thought that the other dog had actually punctured the top of my skull! After some Xrays she said that it wasn't fractured, but the muscles there were "shredded." She also said that she could fit 3 fingers in the wound on my neck, and that I was one lucky doggy because if "Happy" had bitten me one inch over in either direction that I wouldn't have walked out of there. She said he almost got my jugular. She said this doggy meant to kill me.

Mama and Daddy came to pick me up at the vet at 8pm (I had been there since noon), and Mama started cryin when she saw me. I hurt so bad, I didn't even want Daddy to pick me up to put me in the back of the Jeep. Every time he tried to pick me up, I laid down on the pavement. Mama had to hold me up by my waist so Daddy could lift me up.
Mama took these pictures of me when we got home: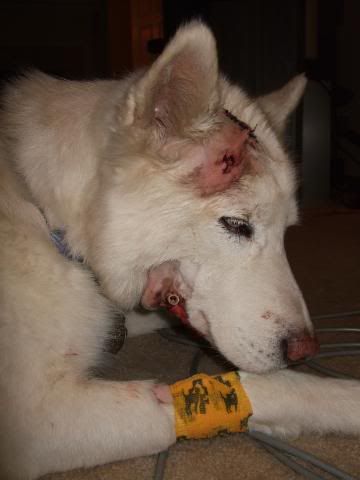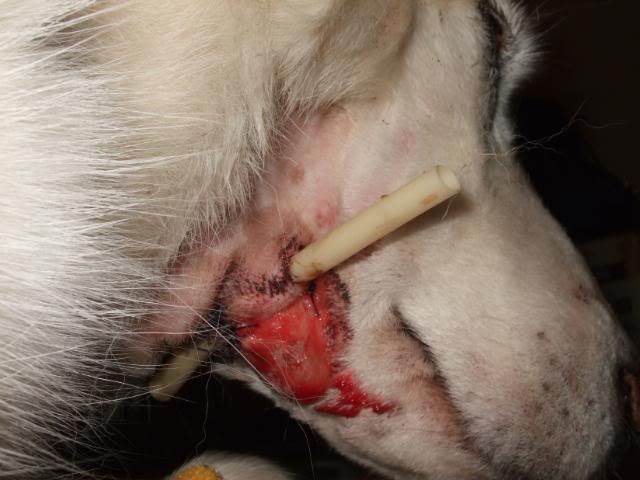 The tube thing in my neck is a drain, it was removed two days later. I'm tellin ya, I hurt bad! I was on Tramadol for the pain, and it made me sleepy, but when I was awake I was whimpering and crying. I couldn't eat no solid food, so Mama gave me canned food everyday for a week with my antibiotic and pain pills mixed in. I was at the vet almost every day for that first week, because Mama and Daddy had to go to work and they didn't want to leave me home alone.
After a week I started getting itchy and I had to wear the dreaded cone. My hair also started to grow back (Mama still called me Frankendog though):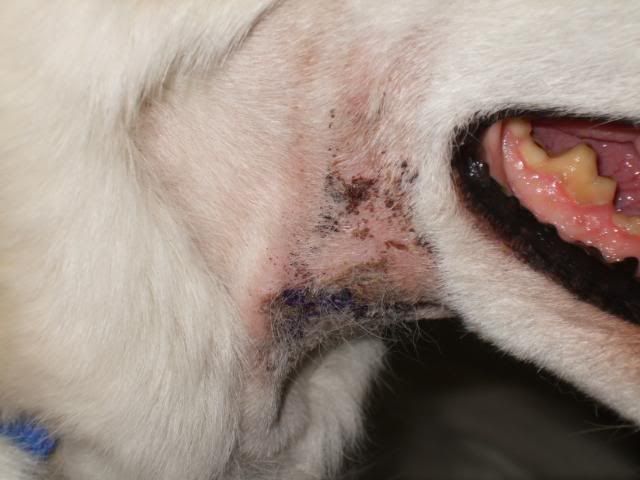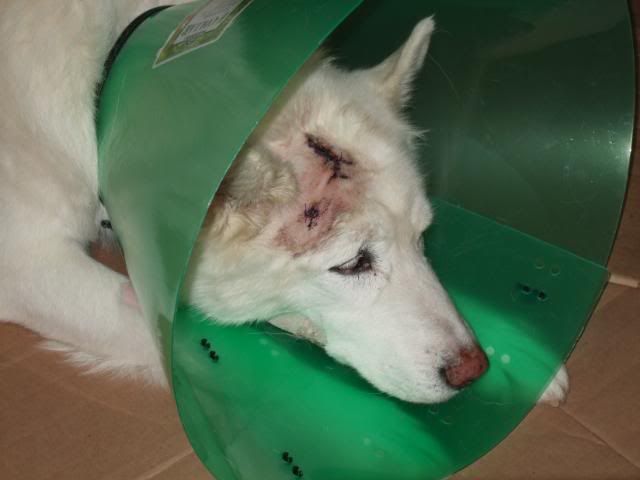 My stitches came out a little more than a week ago, and the scab on my head has come off now. The scab on my neck came out when they took the stitches out. I'm doing great now, and I still loves everydoggy out there (including the mean ones). Excuse my gooky head, Mama had been putting something called Neosporin on my scabs, and it melted all over my head. The lady that owns "Happy" has offered to pay for all of my vet bills too. Mama says I'm still handsome! The vet says I'll probably have a permanent furrow on my head because of the way she had to close the head wound, but that it shouldn't be visible once my fur grows back.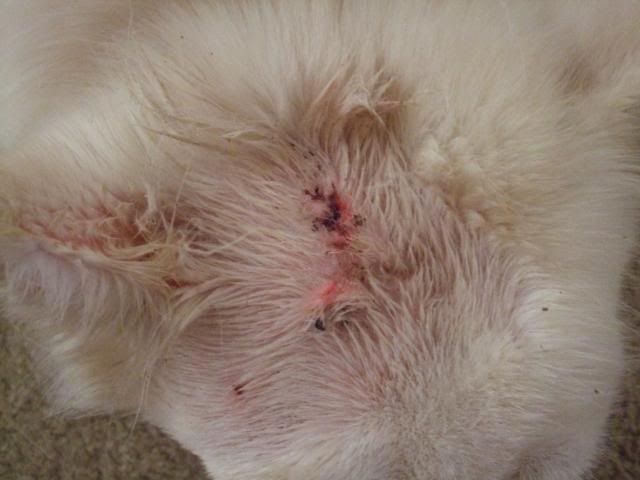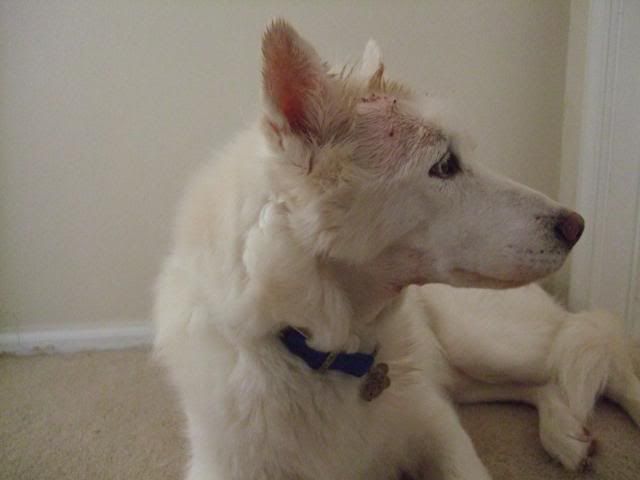 Here I am last week, out enjoying the sunshine!